About Chris
I was a 22 year old university graduate in the summer of 2009 when BikeforMike happened. Wanting to do something in memory of my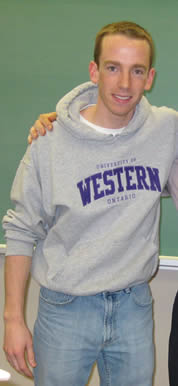 friend who passed away from cancer, I decided I would spend the better part of the summer biking across Canada and raising money for childhood cancer. I began planning and training for the trip in January 2009 and six months later began in Vancouver. With a lot of support and good fortune I was able to finish 46 days later in St. John's.
I feel very blessed to have been given the opportunity to make this gesture to Mike's family and to raise money for the Hospital for Sick Children. To all those who have made donations and who have supported me on this trip, I sincerely thank you. BikeforMike was a team effort and none of this would have been possible without you.
-Chris
To learn about how Chris knew Mike, click here.