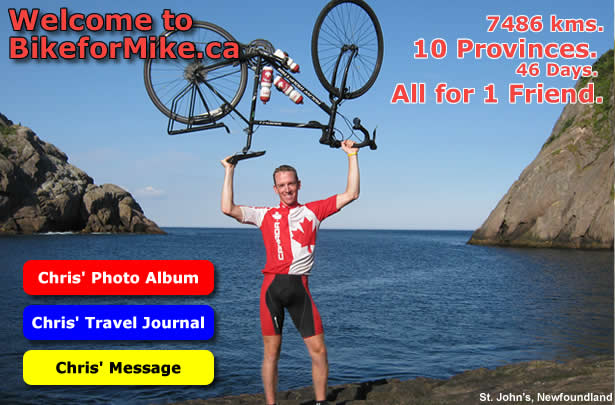 This website is dedicated to Chris Greig's solo and unsupported bike ride across Canada in memory of his friend, Michael Webster, and to help fight cancer in the lives of children.
On June 1st, 2009, Chris, a 22 year old recent university graduate, left the shores of Vancouver, British Columbia, and reached St. John's, Newfoundland, 46 days later, on July 16th. He biked 7486 kilometres.
This site houses all information about the trip and the charity. Though the journey is over, the fight to combat childhood cancer continues. You can join the cause by making a tax deductible online donation directly to the Hospital for Sick Children.
We hope Chris' efforts have encouraged you to ask yourself what you can do to make a difference. Thanks for your interest and support.
Updates
March 23, 2010
Through the continued support of our generous donors, BikeforMike has reached 2/3 of its $50,000 goal. Thanks again to all the kind donors who have made this possible.
August 17, 2009
Some post-trip related content has now been posted. Pictures from Chris' trip are now available here. The trip's statistics are also available for viewing here. The Press page has been updated. Chris' final blog post is also finished and is available through his travel journal.
May 30, 2009
Well everyone, the time has come. Tomorrow morning Chris boards a flight for Vancouver and begins his journey across Canada- his journey for Mike and Mike's family. From this point onward, you can read about his progress by viewing his live location or by reading his travel journal. A note about the live location tool: though his GPS unit is capable of delivering by-the-second location information, this will not happen because of the strain it puts on the device's battery. Instead, Chris will update his position at regular intervals throughout the day. Lastly, stay tuned for pictures and other content to be posted when the trip is complete. Thanks!
May 18, 2009
The FAQ, Gear and newly added Press page have all been updated. And…there are less than two weeks until Chris starts!
May 16, 2009
The fundraiser held on May 9th brought in over $20,000!! Many thanks are owed to all who came out and showed their support and to the organizers for throwing such a first class event. Much of the money has already been donated to SickKids, putting the total donations received to-date over $20,000. A remaining portion of the money raised from the fundraiser will be donated after Chris returns from St. John's. To see a few photos from the fundraiser, click here. Thanks again everyone!
May 5, 2009
A start date has been chosen. Chris is landing in Vancouver on May 31 and begins his trip June 1st at 6am. More information to follow!
May 4, 2009
The Route Has Been Chosen. Check out Chris' route here.
March 23, 2009
BikeforMike Fundraiser Night!
May 9th 2009, 7:30pm at the Dixie Curling Club. Click here for directions.
Featuring: live music from the Marginal Donors, a classic rock band playing hits from the 60's to today with 3 band members being Transplant Doctors at the Toronto General Hospital.

There will also be a sizable silent auction to bid on and a cash bar. Come out for a great night as we remember Michael Webster and wish Chris all the best on his trip. Advance tickets are $25/person and include a cold buffet and can be requested by emailing chris@bikeformike.ca. Cheers and we hope to see you there!
March 22, 2009
Chris has biked 1,850km in preparation for the trip. BikeforMike is now on Facebook. Check out the Facebook Group.
February 10, 2009
Chris has now biked 1,000km on his trainer in preparation for his journey across Canada.